Shortly after their successful collaboration on 'Smile, Your On Candid Camera', Peppiate Sharpe invited Liquid Studios to design the characters, props and animation for a series of three programmes for Channel 4.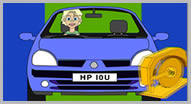 The programmes - 3 of a 6 part series - dealt with changing attitudes to driving, hairdressing and DIY. Each programme would have an animated title sequence featuring characters performing tasks within the given programme area. The
start of each sequence would show older approaches to the subject matter, with the characters gradually updating to reflect modern attitudes. It was important for the animations to tie in closely with the programme content and also for each of the sequences to obviously be part of a series.
The character animation and props were designed and animated using Macromedia Flash, with the final composite produced by Peppiate Sharpe and mastered by Mezzo Studios. Each programme had just just a 1 week timeline for Liquids involvement.
You can see a small sample of these sequences in our showreel, which you can download here.