Mezzo Studios commissioned Liquid Studios to animate 'Terrified Turkey', an in-store character for a Cost Cutters.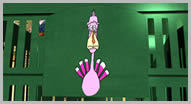 The advert called for 4 short loopable reaction shots of the Turkey character which could later be composited with pre-shot in-store footage and other 3D animation which was to be supplied by Peppiate Sharpe. Due to the fact that the
turkey was a recognisable part of Cost Cutters' in store advertising, it was important to keep the same look and feel for the character, whilst modifying it sufficiently to meet the short deadline requirements of the job.
Macromedia Flash was used to colour and animate the drawn animation cells for all 4 sequences. This allowed Liquid to deliver the final animation within the 3 day timeline they had been given. The finished commercial was edited by Mezzo Studios.
You can see a small sample from the final advert on our showreel, which you can download here.