The Sandal Castle interactive was produced by The Works during their redesign of Wakefield Museum. The Interactive was designed and developed by Liquid Studios' director, Matthew Robson, whilst under the employ of The Works.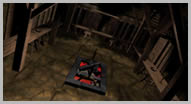 Sandal Castle itself is now in ruins, and designing the 3D walkthough sequences which feature heavily in the interactive
required close collaboration with preeminent historian and castle researcher - Lawrence Butler. The interactive was designed from the beginning to tell the Castle's story - from its wooden first incarnation in the 11th century, to its eventual destruction during the English Civil War.
The 3D sequences were built in Newtek's Liqhtwave, with the interactive itself being composted in Macromedia Director. Additional Artwork created In Macromedia Freehand and Adobe Photoshop.
You can see a sample of the 3D sequences from this interactive on our showreel which you can download here.