Dr Carefree's Casebook was designed as a training pack for Norweb's in store sales staff. It consisted of a 20 minute training video and accompanying booklet, both aimed at providing insight into selling extended warranties to customers. Due to the complexity of the techniques explained in the pack, an animated character was to 'sell' the concepts to the staff.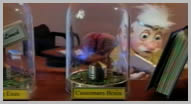 Liquid produced the designs for both the
character and set, and kept a close involvement right though the model making stage, even building large protions of the set. The final character - Dr Carefree - was a psychiatrist, talking to an invisible 'Sigmund'. The voice explained the sales concepts and allowed Dr Carefree to 'understand the customers brain'.
The animation was stop-motion, The Dr Carefree model was built by Figure Productions and the stop-motion performed by Hammerhead Productions. Editing, Script and Direction were by Darren Sugden, head of Norweb's Audio Visual Unit.
You can see a sample of this video in our showreel, which you can download here.